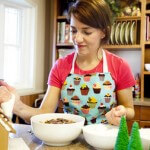 In Muskegon, we have a secret weapon on our retreats: Paula Kule. She has run the Kitchen team for many years and it was only a matter of time before she was recognized for her skills in the news. This girl can do practically anything with cakes and as you'll see, Gingerbread Houses. Not to mention being a great cook.
She was featured today in the Muskegon Chronicle Newspaper:
In Paula-Marie Kule's creative hands, homemade gingerbread cake and royal icing become brick and mortar. Frosting, with just the right touch of green food coloring applied, magically turns into Christmas wreaths. Coconut transforms into snow. Pretzels become sidewalks, and breakfast cereal? It is the perfect roofing material.
"I completely raid the pantry at home," Kule says. Kule, 21, a Mona Shores High School graduate, is a gifted baker — and an award-winning constructionist of one of the holiday's favorite traditions: gingerbread houses. "I am geeked about gingerbread," Kule confesses.
In 2009, the Muskegon Community College student — whose first love in the kitchen is actually baking cupcakes — won first place in Pastry Chicago's fourth annual gingerbread house competition held in Skokie, Ill.
Open to pastry and culinary arts students, as well as amateur bakers, the prestigious competition is sponsored by The French Pastry School of City Colleges of Chicago, which Kule hopes to attend someday.
"I've visited a lot of culinary schools," she says. "This one is as much about your creativity as it is about cooking … and your career."
Kule wowed the judges last year with her house complete with — all edible, mind you — solar panels, wind turbine, rain barrels and gutters, green roof and bicycle parked outside the door.