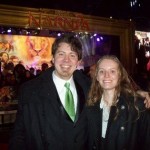 Narnia fanatics and Belmont newlyweds Paul and Courtney Martin didn't invite any dryads, centaurs or fauns to their traditional Aug. 28 wedding at St. Thomas the Apostle.
"But we had like a really cool thing that we ended up doing," Paul said.
Thanks to 20th Century Fox, the couple found themselves with an all-expenses-paid honeymoon of sorts sailing around the southern tip of England in a 15th-century maritime ship, "The Matthew of Bristol," rigged to look like the vessel from the major film studio's latest C.S. Lewis production, "The Chronicles of Narnia: The Voyage of the Dawn Treader."
The studio invited Paul, 30, and Courtney, 23, to England to document company-sponsored "Narnia" contests for his fan website, NarniaFans.com, one of two major fan sites for the films.
"It was a fascinating time. We were going around with this huge old ship," Paul said. "We got to basically go from place to place with it, as well as just watch a bunch of kids that won big 'Narnia' competitions compete in different events."
Their special "Narnia"-filled honeymoon trip from Aug. 29 to Sept. 6 brought their relationship — which began with a first date in 2005 at a screening of "The Chronicles of Narnia: The Lion, the Witch and the Wardrobe" — full circle.
And that's not to mention Martin's epic Sept. 21, 2009 proposal aboard the real Dawn Treader — a massive set piece anchored on large hydraulic lifts — on the movie set in Australia.
Thanks to helming NarniaFans.com, Martin was able to connect with Douglas Gresham, Lewis' stepson, who arranged for their visit. Paul and Courtney met cast, crew and director Michael Apted.