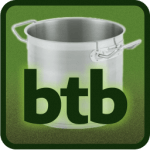 Battle it out in this fast paced multiplayer game! Be crowned the BTB champ!
Bang the Bucket is a mobile game based on a live game where players form groups to advance to the next round. The number of times the bucket is hit determines the exact size a group must be to advance. Players may fight to remove any unwanted players from the group by spelling out "btb" correctly. Players who can no longer complete a full group are kicked out of the game until the round is completely over. The round is over when only two players remain.
This game currently requires at least 3 players on the same local network over Wifi to play. Additional options are available by using the menu key on some pages.
Download from the Android Marketplace
** Does not work on some devices (including tablets) or networks due to internal networking implementations. Certain network firewalls may block communications **