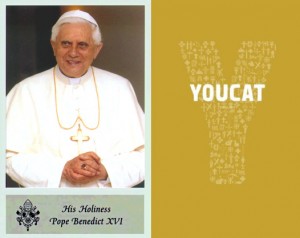 Pope Benedict XVI is promoting a new version of the Catechism of the Catholic Church that he describes as "gripping."  He says, "it speaks to us of our very destiny and because it looks at each one of us closely."
From Vatican Radio:
"Some people tell me that the youth of today are not interested in the catechism, but I do not believe this statement and I am certain that I am right. They are not as superficial as they are accused of being; young people want to know what life really is about. A crime novel is compelling because it involves the fate of other people, but it could be our own, this book is compelling because it speaks to us of our own destiny and therefore is closely related to each of us."
These the words of Pope Benedict XVI in the forward to a book, soon to be published in 7 languages, entitled "Youcat," short for Youth Catechism of the Catholic Church, which is the official catechism for World Youth Day.
Written for high-school age people and young adults, YOUCAT is an accessible, contemporary expression of the Catholic Faith. The popular format includes Questions-and-Answers, highly-readable commentary, margin pictures and illustrations, summary definitions of key terms, Bible citations, and quotes from the Saints and other great teachers.
The project, in the Pope's own words, was first entrusted to the Congregation for Bishops, by his predecessor John Paul II. It took its origin from another work dating back to the 1980s, a period Pope Benedict XVI describes in his forward as "difficult for the Church as well as for global society, during which the need emerged for new approaches to find a way forward towards the future." After Vatican II (1962-1965) and in the changed cultural climate, he notes, "many people did not know what Christians should really believe, what the Church teaches, if it can teach something outright, and how this might fit into the new cultural climate."
Thus, John Paul II entrusted his successor with the task of coordinating the work of bishops, theologians and young people into a book, edited by the Archbishop of Vienna, Cardinal Christoph Schoenborn.
Pope Benedict writes that he "was afraid of this task," and confesses his doubts that "it would succeed," describing its existence as something of a "miracle," the labour of many meetings and "passionate discussions over individual texts."  He then goes on to express the hope that young people will allow themselves to be "captivated" by the catechism, and his certainty that they are far more interested in it than most believe.
In fact he writes; "This aide to the catechism does not offer you any empty praise, it does not offer easy solutions, it requires a new life on your part." He asks young people to "study the catechism with passion and perseverance! Sacrifice your time for it!"
The Pope Benedict continues; "You need to know what you believe, you need to know your faith with the same precision with which a computer specialist knows the operating system of a computer. You need Divine help, so your faith does not dry up like a drop of dew in the sun, so you do not succumb to the temptations of consumerism, so your love is not drowned in pornography, so you do not betray the weak, the victims of abuse and violence."
In one last piece of advice Pope Benedict XVI goes right to the heart of many young people's concerns about and disillusionment with the Church. He writes; "You all know how the community of believers was recently wounded by the attacks of evil, by the penetration of sin within, within the very heart of the Church. Do not make this an excuse to escape the sight of God, you yourselves are the body of Christ, the Church! Bring the wholesome fire of your love to this church every time men obscure its face. "Do not be lazy in zeal, let the Spirit ignite and serve the Lord." (Rom 12, 11)
-via Catholic.org, Catholic News Agency
– Order the Youth Catechism of the Catholic Church (Amazon.com)