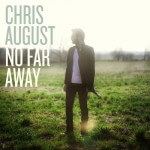 Lyrics –Preview – Buy Song – Buy Album
I've been living in this house here
Since the day that I was born
These walls have seen me happy
But most of all they've seen me torn
They have heard the screaming matches
That made a family fall apart
They've had a front row seat for the breaking of my heart
Seven times seventy times
I'll do what it takes to make it right
I thought the pain was here to stay
But forgiveness made a way
Seven times seventy times
There's healing in the air tonight
I'm reaching up to pull it down
Gonna wrap it all around
I remember running down the hallway playing hide and seek
I didn't know that I was searching for someone to notice me
I felt alone and undiscovered
And old enough to understand
Just when I'm supposed to be learning to love
You let me down again
I lost count of the ways you let me down
But no matter how many times you weren't around
I'm alright now…cause
God picked up my heart and helped me through
And shined light on the one thing left to do
And that's forgive you, I forgive you
Seven times seventy times if that's the cost I'll pay the price
Chris August: 7×70 was the last song I wrote for this album. We were 2 days away from tracking when Ed Cash told me he felt I still needed a personal song for my record. Unaware of my family background, he asked me to go home that night and write about what hurt me as I was growing up. I wrote the first verse of 7×70 later that evening.
After playing my idea for him the following morning, he looked over to me with tears in his eyes and said, "this song has to be on your record and it has to be about forgiveness." This was the last thing I wanted to hear and have to go through while making my album, but nonetheless it was something that needed to happen.
The following few days consisted of us being surrounded by the Holy Spirit like I've never felt before. This was, without a doubt, the most personal song I had ever taken on and it required a mind set on prayer.
I come from a broken home. Better yet, a broken family. Parents screaming at each other and frustrations were commonly taken out on my brother, my sister and me. As the lyrics started to come to mind, so did all the memories of my past that I hadn't thought about in years. Some lines bringing smiles and some bringing another set of pains that I needed to forgive.
Jesus was asked how many times we should forgive our brother. His answer was seventy times seven. God has called us to forgive. It's one of the most difficult things I've had to do, but it was also one of the most freeing things. With forgiveness comes healing. Satan uses the bitterness that we build up in our hearts. For years I told myself that what happened when I was younger didn't affect me. It wasn't until Ed Cash made me relive those memories and told me I need to forgive them. I encourage you to do the same.